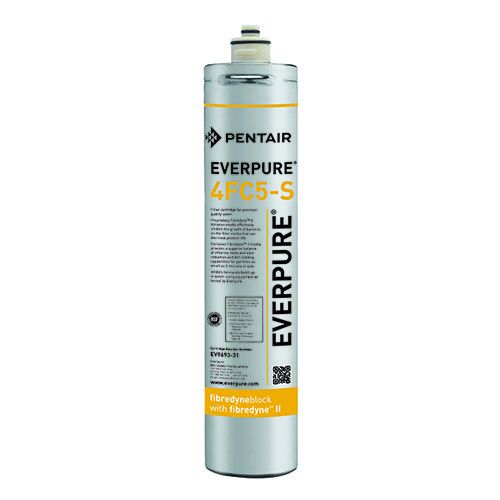 Everpure 4FC5-S Fibredyne II Filter
The Everpure 4FC5-S is a replacement filter cartridge that delivers quality drinking water for ice, steam, and coffee applications.
Applications:
Ice
Steam Ovens
Combination Ovens
Coffee
Features:
The Everpure 4FC5-S effectively reduces chlorine taste and odours, and other contaminants that can change the taste of beverages. This filter helps to retain the drink's carbonation and protects drink system seals, pumps, tubing, and small openings.
The 4FC5-S features proprietary Fibredyne II media technology with AgION antimicrobial protection which effectively inhibits the growth of bacteria on the filter.
It features sanitary cartridge replacement technology that is quick and clean, making sure that no internal filter parts are exposed to handling or contamination. The 4FC5-S is compatible with Insurice, Insurice PF, QC71, QL2, QL3B, and QL3 Heads.
Specifications:
Dimensions: 36.8 cm x 8.3 cm
Flow Rate: 9.5 Lpm
Capacity: 56,781 litres
Pressure: 10-125 psi
Temperature: 2-38 degree Celsius
NSF Certified
Installation Tips:
Install vertically with cartridges hanging down
Allow 7cm clearance for easy cartridge replacement
Change filter cartridges every 24 months or when capacity is reached
Always flush the cartridge at installation and at every cartridge change