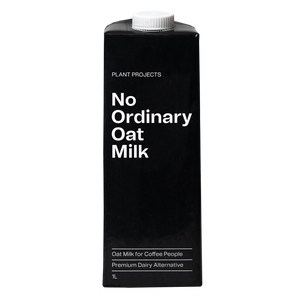 No Ordinary Oat Milk - 6 x 1L
No Ordinary Oat Milk - Case of Six
Made by coffee people, for coffee people
This one's designed to work with your coffee. It's not watery, It's not trying to be the star of the show. It's simply the best dairy substitute your coffee can ask for.
This is No Ordinary Oat Milk indeed

What makes this Oat Milk perfectly pair with your coffee?
Neutral Flavour

Doesn't take away from the roast profile of the coffee
Less oat, less sweet, more about the coffee
PH 7.3 For All Your Coffee needs
With a definitive PH this works better in coffee and amalgamates better than dairy which holds a higher acidity and doesn't split
The Process
Borrowing expertise from the gold standard, using oat kernels harvested onsite.
No Ordinary Oat is a premium oat milk formula.
Other oat milks are often made using a lower quality powder or concentrate. 
Added goodness
Calcium. Riboflavin. Vitamin B12. It's got it. All to keep your coffee habit happy and healthy.
Non GMO

These oats are Non- GMO and free from glyphosate.
PLEASE NOTE THIS PRODUCT IS EXEMPT FROM FREE SHIPPING THRESHOLDS FOR SPEND. FREIGHT WILL BE ADDED TO YOUR ORDER AT CHECKOUT