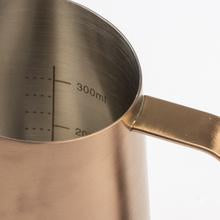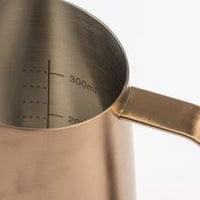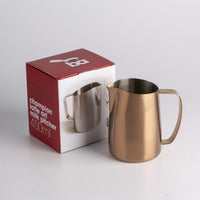 Barista Ace Rose Gold Milk Jug
Barista Ace Champion Coloured Milk Pitcher - 450ml - Black, Rose Gold, Electric Blue                                                            
Designed in New Zealand by baristas, for baristas incorporating a tapered profile with a stunning exterior electroplated colour range. The entire jug is crafted from durable 0.9mm stainless steel, delivering an effective jug for latte art lovers who want reliable and beautiful gear. The ergonomic handle is designed to make steaming milk a comfortable task for the busy barista. The pouring spout is angled for high accuracy latte art, the spout is wide enough for slow-settas and narrow enough for detailed pouring. Etched into both sides of the jug interior are volume measurements in millimetres. By using these as a guide instead of guessing, you can reduce milk waste and save money. The Barista Ace milk jug must be hand washed and will keep it in the best shape for many years.
What's in the box?
1 x Barista Ace milk jug / pitcher - 450ml - black, red, electric blue                                                                    
DIMENSIONS height: 110mm width top: 68mm width base: 78mm weight: 180gm
ELECTROPLATED Each milk pitcher is finished with a stunning electroplated exterior finish                                                                PRECISION POURING The pouring spout is designed with just the right angle to allow for smooth, consistent latte art.
MILK SAVING Etched volume measurements (millilitres) in the jug help make sure you don't use more milk than you need, saving you money in the long run.
QUALITY STAINLESS The stainless steel walls make for a balanced milk jug that's easy to hold when the milk gets very hot.
COMFORT HANDLE Designed for busy cafes or for the barista at home, the handle is easy to hold and will keep you pouring great art longer.  
HANDWASH                        
SPECIFICATION                  
Barista Ace Brand          
stainless steel